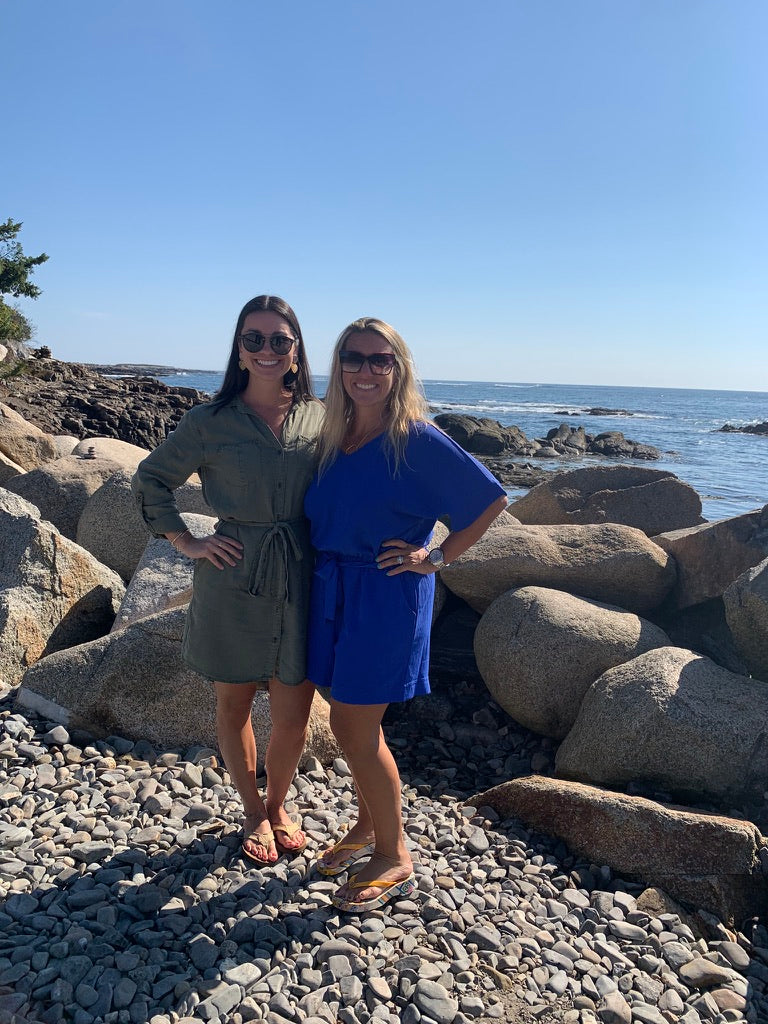 Meet the Owners of Sea Love in Hilton Head
About Sarah Brown
Hi I'm Sarah Brown! I grew up in the small town of Cape May, NJ and have spent my summers on the beaches and working in the restaurant industry. I attended college at Kutztown University of Pennsylvania where I earned my degree in Communication Studies and Professional Writing.
After college I worked in the Hospitality Industry as a wedding coordinator. I loved working with the couples and their families to help their vision come to life. But what I loved the most was seeing each detail from start to finish. In early 2023, an opportunity came my way to move to Hilton Head Island, South Carolina. Since moving here, I began working for a corporation full time and have enjoyed exploring the area of what I have been calling my new "home". When I am not working I enjoy reading book series, beach days and boat rides. I am also a dog mom to a Boarder Collie & Beagle mix named Utley and we love nature walks together. I have secretly always wanted to own a small boutique store. Upon moving here, the opportunity for Sea Love presented itself and I fell head over heels with the brand. I am excited for this small dream of mine to become a Big Reality. I am looking forward to helping create great experiences and memories through scent blending for the future guests of Sea Love Hilton Head!
About Melissa Monge
Hi I'm Melissa Monge! It has been almost 15 years since I took a chance, leaving my hometown Cape May, NJ and big Italian family and moving a thousand miles away to Hilton Head Island, SC, with my then 4 year old son. I am now planning to marry a wonderful man, Jeremy. We have blended our families, with my son Kayden and his son Alex, and most recently it has been a blessing to become a BeBe to Alex's beautiful baby girl Aria.

A corporate job brought me to Hilton Head but shortly after arriving that door closed and another quickly opened that presented an opportunity to follow a dream that had been tucked away for many years. Myself and my sister Christina formed Guardian Angels Sitting Service where we provided a professional sitting service to families in many locations in the South and North. After we closed that door in 2019 I was excited to go back into the corporate world on the island, but I was not done being a business owner. I took my passion and love for marketing and created MDM Design and Marketing where I still today assist new and existing businesses, with business development and growth.

When I have free time I enjoy watching my son play hockey, spending time with family and friends, boating, traveling and just enjoying the beauty of Hilton Head Island.

After Kayden left for college I knew it was time for a new adventure for myself. Jeremy and I visited the New England area and walked into Sea Love Portsmouth in early June 2023. We made candles and had so much fun. We both fell in love with the concept of candle making and bringing people together for a fun activity, and knew that this is what Hilton Head Island was missing!
I am excited to take my work experience in the Corporate world and expertise from
being a business owner and grow Sea Love in the Lowcountry.
"The Jersey girls" decided to combine Melissa's business and marketing background with Sarah's event planning experience and creative mind to open Sea Love | A Candle Bar and Boutique in Hilton Head. We are excited to bring loved ones together to share an activity that will evoke those same memories and emotions for years to come. Whether it's for a casual meet up with friends or for a special event or celebration with a group, I hope we get to inspire you in crafting not only your own unique fragrances, but unforgettable memories as well.

Sea Love | A Candle Bar and Boutique is located in the Shops at Sea Pines Center, in the heart of Sea Pines Plantation, on Hilton Head Island, South Carolina.
Please stop by and say hello - we would love the opportunity to inspire you to create your own custom scent and leave with a memory that will last a lifetime.